The smartphone market made this quite clear: more or less 3 buyers out of 4 bought an Android phone in the last quarter. Many of them have bought one for the first time and then come for dinner or for tea, take the thing out of their purses and use sentences like "now I know you're a nerd's nerd" or stuff like that. This post is different from my usual stuff, I know, but it's convenient for me to collect a few thoughts that usually belong to Friday night conversation or to the super-secret, hush-hush forums I belong to and whose members have chosen to remain anonymous.
"I'VE GOT AN ANDROID, NOW WHAT?"
Where do I find the info? Find the forum / community where your phone is most discussed and sign up to it. For my old Acer it was Modaco, for my S2 it's XDA.
Rooting your phone. It sounds like a fearsome thing done by people with a neckbeard, but as a matter of fact it's nothing else but gaining boss access to the root of your phone, which in turn allows you to do a few things with Linux systems. The ever excellent XKCD illustrates this concept of Super User permissions here.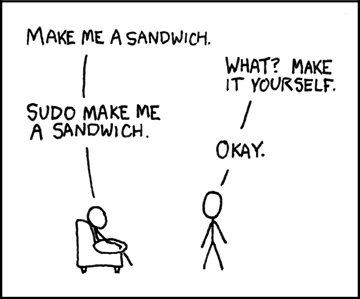 You usually install a recovery along with your root permissions, which in turn allows you to create/restore complete phone backups and to install new ROMs (=official, unofficial, user-created versions of Android). The aforementioned forum/community is the place where you'll find out your root/recovery options.
A few friends, at this point, keep asking: why rooting? Because it allows you to install a James-Bond-proof anti-theft software; you can use those bad apps with a skull on top; backup everything you got and send it to Dropbox or Drive (with Titanium Backup you can backup your apps and app data. What I mean is that my bank's app backup saved the token data even when I changed phone); backup all your texts from the dawn of times; remove those pesky manufacturer apps you don't care in the least about.
Finally, and most of all, because there are thousands of ROMs for people with different needs and without root access you can't set them up. There are ROMs for Christian churchgoers, ROMs with dragons, unicorns and certainly Harry Potter dedicated ROMs. There's all the trash you need, as a matter of fact. Futhermore, official OS updates take some time to turn up. For example, right now those who have a Galaxy S2 still can't install official Jelly Bean versions, whereas the first custom ROMs with JB were there since July.
Anti-theft (plus anti-virus). There are loads of free or paid apps. I'm currently using Cerberus, around 5 dollah, which geolocalizes your phone, takes pics from both cameras, gives remote control, wipe, etc. It also has this super-sexy thingy which allows me to send messages to the hypothetical thief, something along the line of "I know your exact geographical position, you &%$£"ç°". In the past I've also used LMaxi (free). Among the free ones today: Avast. Believe me: you need an anti-theft app now.
Launcher. I.e., start screen and app drawer. Go Launcher used to be the best in terms of customization opportunities, but has now become ginormous and fills your phone with other apps, stores and bullshit. As a matter of fact, it's the first ever Android bloatware. I've just installed Nova Launcher, which is light, no-nonsense and extra swift.
The launcher is the thing you'll use to customize your theme, as well.
Titanium Backup: titanic software that keeps your ass safe. It constantly backups all your apps (as batches, on schedule, etc.). Its cost is around 5 bucks.
Everything else is a matter of personal choice. I may remind you:
– browser (Dolphin).
– offline GPS.
– SMS backup & restore (hence its name).
– File Explorer.
– Zedge.
– …
Did I forget anything?